Our boats and buildings produce green energy with solar thermal and photovoltaics
PHOTOVOLTAIC SYSTEMS (PV)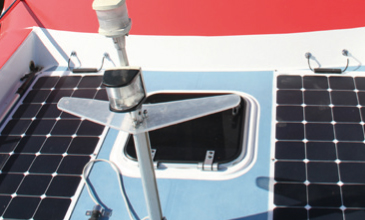 The power supply on many of our boats works via photovoltaic systems and on diesel engines also via the alternator. The photovoltaic system on our boats includes 2 modules of 110 watts each, so 220 watts, on larger boats 4 x 110 watts, so 440 watts. The alternator reaches a total output of about 1.2 kilowatts in diesel mode. This method is much more cost-effective and, above all, more sustainable, since the energy generated is stored when not in use. We use it to charge the boat batteries. By using photovoltaics, we save on the consumption of shore power and the boats can be self-sufficient while underway.
In addition to the boats, we have installed a PV system on our new sanitary building at the Camping-Car park in Hafendorf Müritz. This system has an output of 12.8 kilowatts peak; the electricity generated is used to produce hot water for the sanitary facilities of the site and to operate the infrared heating of the sanitary facilities; the surplus electricity is fed into our power grid in the Hafendorf Müritz.
More PV systems on the buildings will also follow.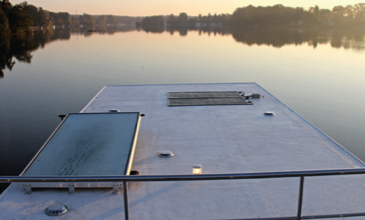 SOLARTHERMY
In addition to photovoltaic modules, solar thermal modules are installed on the boat roofs of some of our Febomobiles. These ensure that the water is heated; this saves gas and thus CO2.

Our building in Niderviller (Alsace-Lorraine) with boat hall, sanitary facilities, marina office and vacation apartments is also equipped with solar thermal modules.
ENERGY FROM THE BOAT DRIVES
Almost all of our boats have diesel propulsion. These engines are low-speed and extremely economical. The waste heat from the diesel engines (external cooling circuit) goes into a hot water storage tank. The hot water from this tank is used to supply hot water to the boat (kitchen and sanitary facilities).