Press Release: November 2019
Kuhnle and Römer are on a Parallel Course
The Chairmen of Kuhnle and Römer hire boat fleets announce a strategic partnership.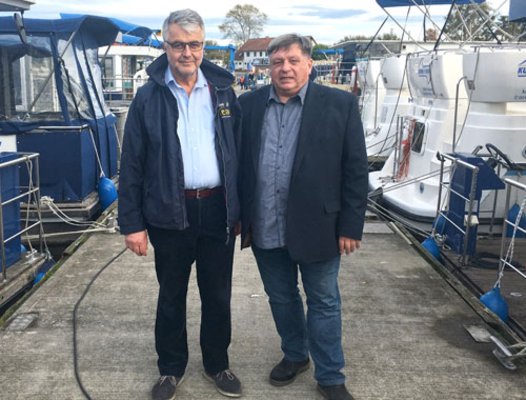 Two of the biggest fleets in the Mecklenburg Lake District are heading in the same direction: Yachtcharter Römer and Kuhnle-Tours have joined together to form a strategic partnership. The partnership will bring efficiencies across the organisations, with a particular focus on the digital world and the infrastructure of the marinas.

At the start of the 2020 season, several boats from Römer will be moored, maintained and managed by Kuhnle at Hafendorf Müritz (Germany's biggest Lake). The Römer base in Fürstenberg (Havel, Brandenburg Lake District) will remain the responsibility of the Römer team.
All boats from the Römer fleet will be bookable via the Kuhnle-Tours reservation service and web-based booking engines. The CEO, Manfred Römer is expected to have a reduction in responsibilities.

The additional dutch steel cruising yachts to the Kuhnle-Tours fleet is a significant expansion.

The success of the German Lake District economy is linked to the success of water tourism. Professional maintenance and repairing of boats is an important source of revenue because this type of work generates year-round, rather than seasonal, highly skilled jobs.
contact press:
Dagmar Rockel-Kuhnle
presse@kuhnle-tours.de
+49 (0) 3 98 23 2 66 0
Kuhnle-Tours GmbH
Hafendorf Müritz
D- 17248 Rechlin
COPYRIGHT HINWEIS
Fee-free publication in journalistic media when reporting on Kuhnle-Tours or the district or public relations for the Kuhnle group.
No commercial use by the user. Please name the photo source Kuhnle-Tours, Kuhnle Werft, Rundtörn Marinas, Hafendorf Müritz or Captain's Inn as well as the photographer and send us a voucher copy or the url, when using the picture on your website.